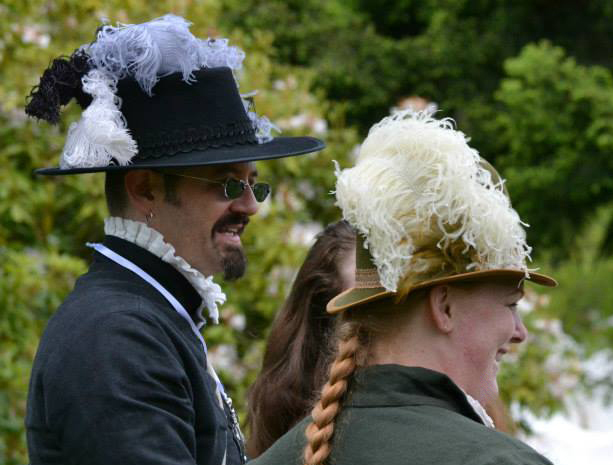 Truly Originals hats, also called TrulyHats,  are 16th and 17th century European styled headwear, designed and hand constructed for serious theatrical and reenactment use. They are perfect for historical re-enactors, Renaissance faire cast and participants, Shakespeare theatres, and Elizabethan costume enthusiasts.  The hats are inspired by the shapes found in Western European  portraits, sculptures,  and woodcuts and from extant hats from the late 16th and early 17th century. Each hat is handmade and unique, crafted one at a time using a combination of traditional and modern millinery techniques. TrulyHats range from theatrical and flashy to earthy and authentic. They are made to be durable and as weatherproof as possible, while still maintain the natural beauty of the construction materials. 
About the Hatmaker

Truly  Carmichael is an award-winning professional costumer and  milliner who holds a Master of Fine Arts degree in theatrical clothing construction and design. She has held various roles in costume shops across the country, including a full-time position as the Head Cutter/Draper at the Alley Theatre in Houston Texas. She is currently the painter/dyer/crafts artisan at the Children's Theatre Company in Minneapolis, where she is delighted to be exercising her skills daily, and making earhats. She's only mildly obsessed with the clothing and headwear of the 16th and 17th century, and has focused heavily on historical millinery for the last fifteen years. 
Website Credits
Although I muddled through much of this website all by myself, I owe deep gratitude to the following individuals and organizations:
People
Ben Deschamps – for making me believe that this was something I could actually accomplish, for spending hours showing me how, and especially for showing me that whole view source thing.
Cory Shubert – For introducing me to WordPress, and for getting me really thinking about who my viewers/customers are. Also, for taking that awesome photo of me in the white dress 🙂
Joel Viney – for suggesting the extremely alteration friendly theme I ended up with.
Tim Jennings – For constantly looking at each leedle website change I made and for saying "That looks awesome baby!" a million times and for never once complaining about how long I was spending on this.
Organizations
I used this awesome web button generator to make my pretty buttons: